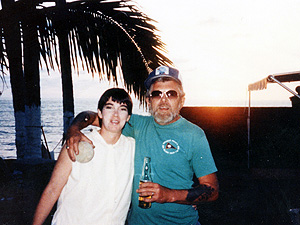 By Dane Batty
Tropical destinations with their sandy beaches and laid back attitudes are a great place for escape. That's what honeymooners, snowbirds and stressed-out office workers think, but criminals find a more literal meaning and a place to blend in among a world of strangers whether on land or at sea.
Leslie Ibsen Rogge, whose back story reads as part action packed chase adventure and part relaxing travelogue, was an expert bank robber who robbed nearly 30 banks and netted over $2 million dollars. You almost forget that the sun drenched man with a beer in hand is on the FBI's Top Ten Most Wanted List and not just another carefree vacationer. Rogge's days in the Navy gave him experience with sailing which he used to travel extensively around Mexico, Florida, the Caribbean, Jamaica and even Portugal, and he traveled by land throughout Florida, Mexico and even settled in Guatemala. Rogge was also very mechanically inclined and could work odd jobs working on machinery, automobiles and household needs as a handyman in just about any sunny port town.
In a place where being an out-of-towner is the norm, criminals can find a welcome space and room for anonymity and a place to blend in. "The Caymans were beautiful." Rogge recalls, "We anchored right off Georgetown's Seven-Mile Beach in front of all the fine hotels. They didn't really mind. The sight of sailboats anchored off their hotels did nothing but add charm, so some even welcomed us with free showers and beach rights." Rogge also found Gulf coastal towns in the south to be a place where people tended to mind their own business and where an easy-going lifestyle let a criminal blend in without many questions.
Some find refuge outside the long arm of the law in exotic and far away locals. In lands where pirates and expatriates roam free from rules criminals from all walks of like can feel as if they have freedom from pressures without being that far from civilization and supplies. For Rogge, the FBI was never far behind. In Guatemala, Les was finally captured. He now spends his days behind bars, in sunny Texas.
Les Rogge was capture number 423 in 1995 after eluding the FBI for nearly a decade as #7 on their Top Ten List. After settling in Guatemala Les was discovered when he helped hook up a young boy's computer to the internet, and he had no idea that the boy would eventually go on to identify Rogge through a picture he came across on the FBI's website. Rogge became the first Top Ten criminal to be apprehended due to the internet, and at the time he was the only non-violent criminal on the list.
Les has served 15 years of his sentence at the Federal Pen in Beaumont, TX, and at the age of 71 he is due to be released in 2047. During his two decade crime spree Les traveled with his wife Judy and they are still married today.